Choosing the right pest control company can be difficult. Many companies claim to be the best in their field. However, how do you know which one is right for you?
Take a look at these guidelines and tips on choosing a pest control company to help simplify things.
1. Know the Different Types of Pests
Depending on the types of pests in St Catharines, you may need to use different methods.
For example, if you have an infestation of cockroaches, you might go with a company that uses baits or gels.
If there are termites present in your home, you should look for companies that use termiticides.
Of course, the best course of action is to never have a pest problem in your home. If you do encounter one, it's good to know what types of pests are active. You must also remember where they tend to be located.
2. Recognize Signs of Infestation
If you know where and when to see different pests, it will be easier to recognize them.
For example, mice tend to stay in the walls and near small cracks and holes to access your home.
On the other hand, ants typically aren't too difficult to find since they leave a trail.
3. Check Reviews and Get Quotes
Getting quotes and checking reviews is essential before deciding on a company that will get rid of your pest problem.
Reviews will give you a sense of what people think of their hired Company.
It may also be beneficial for you to leave your review as a consumer.
Look through customer satisfaction rates and how much it will cost you to solve the problem with each company.
4. Make Sure the Company is Licensed and Insured
It's not just crucial for your safety, but the company must undergo inspection by their local government. This is how they can stay in business legally.
Should there be an issue or problem with their work, you don't want to find yourself liable for the damages.
5. What Does the Company Specialize in?
If you hire a pest control company to work on your home, make sure they specialize in residential services.
However, if you hire a wildlife removal company, they may not help with other pests in of your home. They may not have the right equipment or knowledge necessary to eliminate the pest infestation problem.
6. Ask for References
It's always a good idea to ask for references from previous clients when looking for a pest control company.
Please get in contact with each reference and see what they thought of the work done by the company.
Were they happy? Were they satisfied with the results? How much did it cost, and was it reasonable?
7. Get Free Estimates from Local Experts
Once a company has answered all of your questions, and you know what they specialize in, get an estimate.
Get a quote for how much you will have to pay to get rid of the pest problem from several companies.
Then compare the quotes from different companies.
Undoubtedly, if you receive a quote over the phone, get everything in writing. Do not sign any contracts or agreements without reading the fine print.
Make sure that all of the information they provide is accurate and spelled out for you to avoid any issues.
8. Ensure the Company has Proper Insurance Coverage
Many insurance providers offer commercial liability insurance coverage, worker's compensation insurance, property damage, etc.
Ask the Company which insurers they work with so that you can easily file a claim if necessary.
Choosing the best pest control company can be challenging. However, you should have an easier time narrowing down your choices if you know what steps to take beforehand.
Know how much money it will cost and which companies offer the safest practices. These are just two things that can help simplify the entire process for you.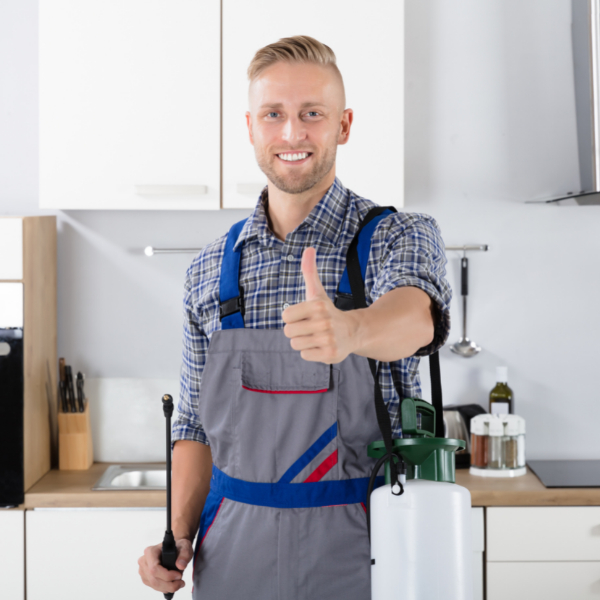 Our advice: Call us!
We here at Pest Control St Catharines understand that you only want the best. So we strive to bring our customers the most satisfactory service possible.
You may be asking yourself, how do we guarantee this? Here are some ways we do it:
1) Our technicians receive a minimum of 80 hours of training on all types of pests and pest control methods. This also includes our in-house professionals do all of our training to ensure quick solutions to your specific pest problem.
2) Our managers or supervisors regularly monitor and evaluate our technicians. As a result, we can ensure we continue to provide excellent service.
3) We will only use EPA-registered chemicals, which means that your family, pets, and the environment are safe.
4) Our highly qualified pest control specialists average 11 years of experience. Thus, they can assist you with any queries or queries you may have.
5) We offer our services 24 hours a day, seven days a week, so no matter what time you call us, we will be there to help you resolve your pest problem.
6) We offer a 100% satisfaction guarantee with all our service plans. If, for some reason, you are not completely satisfied with the services we provide, call us, and we will make it right.
7) On many of our service plans, we provide a free initial inspection which includes a thorough exterior and interior inspection of your home. The initial inspection is usually 1 hour but can be longer depending on the circumstances.
8) We have a 24/7 emergency phone service to get to you quickly and resolve your pest problems before they become worse and spread throughout your home or business, which saves you money in the long run.
9) We offer guaranteed results — your satisfaction is our goal. We believe that our service plans are the best in the business and hope that you will give us a chance to prove it to you!